NYC Hemophilia Walk-Take the $100K Challenge!
We're well on our way to raising our goal of $300,000 for this year's New York City Hemophilia Walk! Congratulations are in order for all captains who've created teams and are currently raising funds towards research, education, and community awareness on bleeding disorders!
But the work is not nearly over. NYCHC has a challenge for all team captains, walk participants, and community members!

We are looking to raise $100,000 by April 17, World Hemophilia Day and we need your help to get us there. Currently, we're at $46, 406 and $100,000 would put us at 30% of our goal with 45 days to go before the walk. We're challenging the NYCHC community to help us get to this benchmark goal in celebration of World Hemophilia Day.
---
Ready to take the challenge? Let's do this!
Step 1. If you haven't already, make or join a team HERE and set a fundraising goal.
It's easy to set up your walk team and you can invite friends and family to join you in raising funds.
Not ready for your own team, but still want to walk or donate? Join someone else's team! There are staff teams (Garden Party 1964, Krassner Dragons, and Daleks in Manhattan), a VWD team (VWD Warriors), and more! Your goal can be anything from $500-$500,000 and anywhere between. You know yourself best, so set a goal you feel is achievable.
Step 2. Accept the Challenge!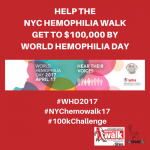 Copy and paste the images above to your social media networks and use the following caption:
"Challenge Accepted! I'm helping the NYC Hemophilia Walk raise $100,000 for World Hemophilia Day!
#WHD2017 #NYChemowalk17 #100kChallenge"

Include your team's donation link to get others involved and spread the word!
Step 3. Get fundraising! Here are some ideas!

Share your team link to family and friends. Even if they don't donate, ask them to pass the word along.

Host a bake sale or dress down day at school or work. 

Invite friends and neighbors over for a happy hour, yard sale, clothing haul, or car wash and tell them about the Walk and your fundraising goal.

Have a birthday or anniversary coming up? In lieu of gifts, ask people to donate to your Walk team.

Do you frequent a salon, barber, medical office, or restaurant? Ask if you can set up an incentive program where a credit is earned for donating ($20 credit for a $20 donation).

Partner with a local pub or cafe and host a trivia or game night. A portion of the participation fee can be donated to your Walk team.

See if your company has a donor match program.
Step 4. Aim for 30% of your fundraising goal.
$100,000 is about 30% of the total Walk fundraising goal. Communicate to people that you'd like to raise 30% of your goal by April 17th, World Hemophilia Day, and you'll help us get to our goal too! Surpassed 30% of your goal? Aim for 40%, 50%, or even 75% of your goal by World Hemophilia Day. Every little bit helps us get to our goal and every dollar helps the cause.
Step 5. Keep up the great work!
Keep moving toward your fundraising goal even after World Hemophilia Day! Just like taking on the Walk itself, fundraising is a process.
It's important to stay positive, keep the momentum going, and thank your supporters along the way.
---
So that's the challenge! We'll be posting strategies and sharing stories over the next few weeks to keep you motivated in this process. Feel free to share your strategies and stories so we can all help one another towards our goal!