MENTAL HEALTH WORKSHOP: EVENT REVIEW – MAY 11, 2019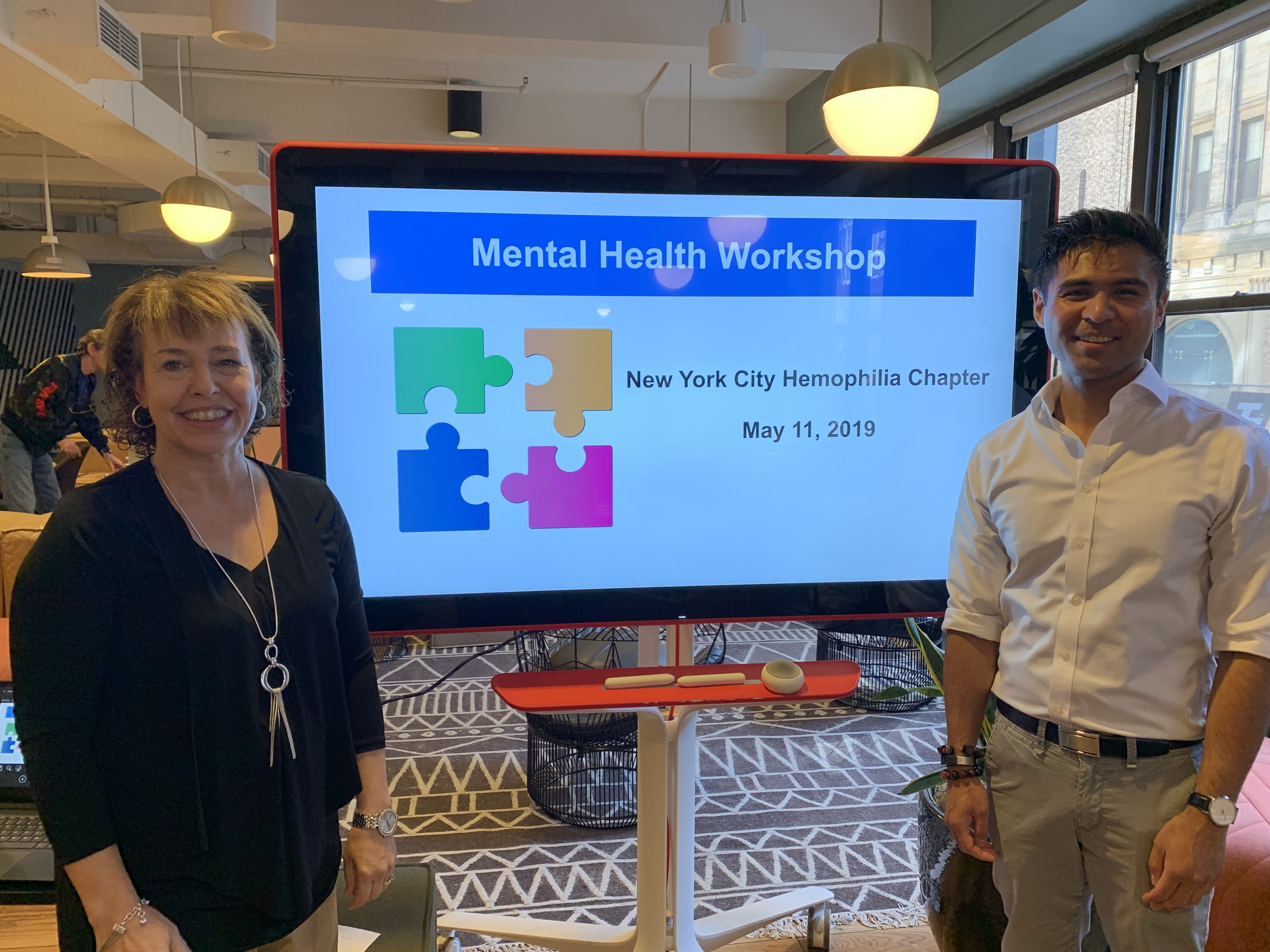 Pictured: Debbie de la Riva, LPC & Founder of Mental Health Matters Too and Marc Pangilinan, Programs and Events Manager, NYCHC
On Saturday, May 11th, the New York City Hemophilia Chapter was proud to hold a Mental Health Workshop developed through a collaboration with Mental Health Matters Too (MHMT). MHMT is a mental health organization focused on mental health awareness in the bleeding disorder community, founded by Debbie de la Riva, a Licensed Professional Counselor (LPC) and mother of a son with hemophilia. Debbie has been deeply involved in the bleeding disorder community for over two decades.
As May is Mental Health Awareness Month, we decided to hold NYCHC's first "formal" foray into the discussion and awareness of mental health for the local NYC bleeding disorder community in acknowledgement and honor of the rising interest in the discussion of mental health recently. We are aware that as bleeding disorder factor treatments have improved and expanded over the years, we have finally reached a place where mental health can finally take the stage. It has become a topic of intense focus and we as a community recognize the necessity of having that conversation.
At this half day workshop, Debbie presented on a variety of mental health topics, including:
+ Stigma and prevalence mental health in our society
+ Risk factors, signs and symptoms of mental health conditions in the US
+ The recent opioid epidemic
+ Bleeding disorders and mental health connection
+ Treatment options and the power of community
After the presentation (and a well-deserved lunch!), our attendees were taught the Two-Step Method, a technique developed by mental health professionals to improve self-awareness by helping identify anxiety-inducing thoughts and introduce ways to re-frame these from a self-love point of view.
We were excited to see our attendees represent many different demographics within our community – males and females, teens and adults with a variety of different bleeding disorders (as well as some caretakers). As we all know, mental health conditions do not discriminate: anyone can experience depression, anxiety, isolation, thoughts of self-harm, etc, no matter how positive their external circumstances seem.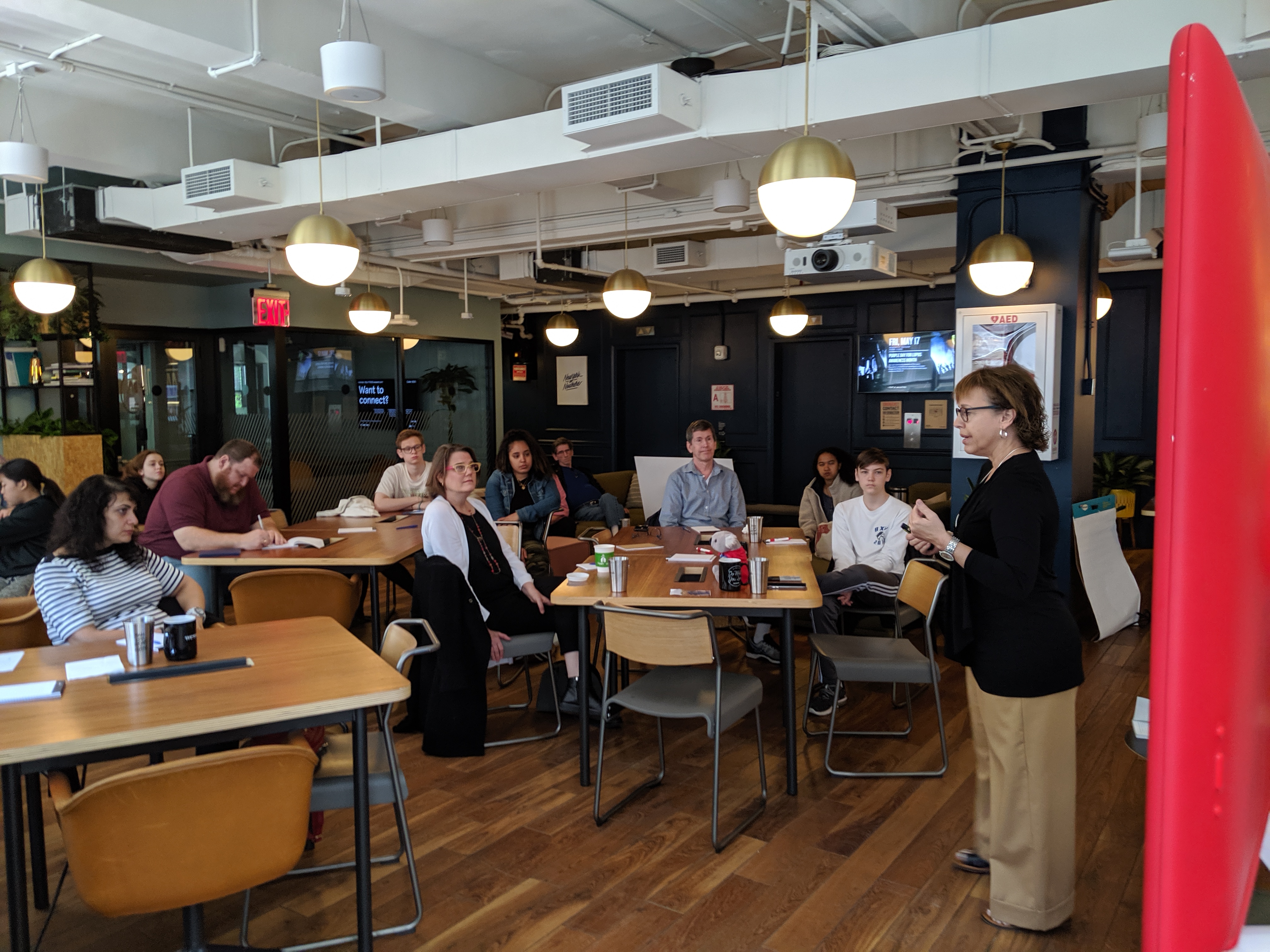 We are grateful to our attendees who all chose to be brave; sharing their stories, feelings and needs in terms of mental health awareness/education. After this workshop, we have a much better idea of what the needs are in our community in terms of mental health and we are working to develop more mental health-focused support in our future programs and events. We are excited to finally have this conversation and we are striving to always provide a safe and trusting environment for our community so that they will be able to engage fully in the discussion.
If you'd like to help in developing and implementing mental health programs (or any of our programs & events) for the NYC Hemophilia Chapter, please contact us at [email protected] to join our list of volunteers!