Healthy, Happy Back to School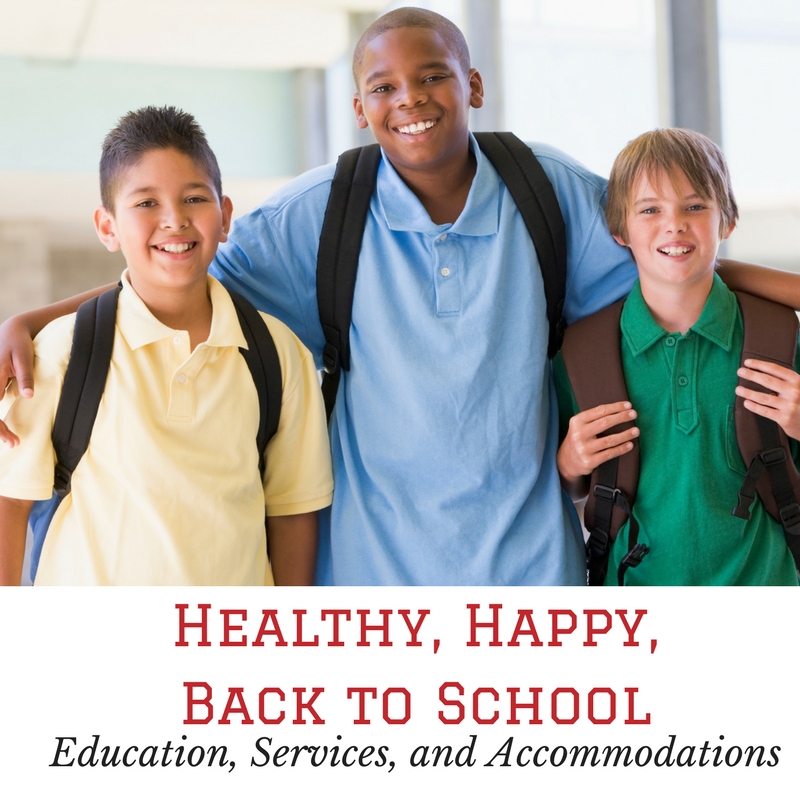 Dr. Regina Legere-Buccellato
September 2017
---
It's back to school time!  For parents and guardians of children with bleeding disorders this may incite various concerns and worries.  Depending on your relationship with your child's school, the beginning of the school year means speaking with your child's new teacher about his or her bleeding disorder.  Perhaps for others, their schools are already well-informed about your child's medical condition.  For another set of families, your child may be starting school for his or her first time.  Educating your child's school about bleeding disorders is essential for your child's health, safety and academic well-being.  How each child is effected by their bleeding disorder vastly varies, whether he or she has an inhibitor, or has experienced brain bleeds, or has a target joint.  Consideration of several academic services and medical accommodations may be beneficial in your child's school year success.
Educating Your Child's Educators
Your school should be educated about your child's bleeding disorder and prepared to know what to do in the event of an emergency.  Take the time at the start of school to meet with your child's teacher(s) and explain how the bleeding disorder impacts your child.  You can also request your Hemophilia Treatment Center (HTC) nurse to speak to your school nurse, with some HTCs permitting their nurses to visit your child's school.  Your HTC can provide you with a medical letter about your child's condition for the school as well as educational pamphlets.  Anyone who interacts with your child should be well-informed about his bleeding disorder and how to address any issues.  School personnel should also be encouraged to actively communicate with you and to contact you or your HTC if there is any question or concern, no matter how seemingly small or insignificant.
Academic Services and Accommodations
Your child may require an Individualized Educational Plan (IEP) and 504 to specific services and medical accommodations.  A detailed explanation of the IEP and 504 can be found in Resources at the end of this article.  Children with bleeding disorders may be eligible for special education services, being classified for example with an Orthopedic Impairment, Other Health Impairment or perhaps in the case of brain bleeds, Traumatic Brain Injury.
In addition, your child may be qualified for certain accommodations due to physical impairments such as a target joint and bleeds or necessary medical treatment interfering with regular school attendance.  Taken from the NYC Department of Education schools.nyc.gov website the "Section 504 of The Rehabilitation Act of 1973 requires public schools to provide eligible students with accommodations, so they can participate in school activities with non-disabled peers.  Under Section 504, a student with a physical or mental impairment that limits one or more major life activities is eligible to receive accommodations.  A student who requires medication during the school day or an accessible school building, for example, may have a 504 accommodation."
The following are examples of some services and accommodations to be considered that may benefit your child and his medical needs in school. They will vary upon your child's bleeding disorder and treatment and should be discussed with your HTC who can be specifically tailor them to your child's needs.
MEDICAL ACCOMMODATIONS
Factor is most effective in the treatment of bleeding disorders within the first 12 hours after administration.  Thus, factor first thing in the morning is an optimal time but may not be the best time.  A number of families give factor after school or evening to avoid having their child be late for school.  However, many families are unaware that medical accommodations excusing lateness for morning medical treatment can be requested in the 504.  This form (see resources), completed by your HTC, details the necessity of factor administration prior to the start of school.  Your child should not have to be penalized for morning lateness and should be given the privilege to receive his medication at the most effective and optimal time for his health and safety.  Similarly, should your child have frequent absences due to medical treatment or injury, he can be excused for such absences.
Another consideration is whether or not to keep extra factor product at your child's school in the event of a medical emergency.  Should your child need to be taken to the hospital during the school day, your factor will already be at the school and can be sent with your child.  Your HTC can make the decision based on the emergency if the school nurse or EMS should administer factor immediately at the school.
A paraprofessional is a special kind of school staff assigned to aid your child with specific needs.  This type of service is also requested in the 504.  For example, if your child requires a wheelchair or crutches during school, your paraprofessional can assist with helping your child to move around the school building (a medical accommodation for elevator pass and ambulation assistance can also be requested).  If your child has an inhibitor, your paraprofessional can monitor for his safety.  Some families choose not to have a paraprofessional for concern of peer and social issues.  A paraprofessional is a personal choice and the benefits should outweigh the drawbacks.
Have you wondered if your child could benefit from testing accommodations?  Perhaps he or she has had frequent absences and state testing is coming up?  Or perhaps he or she is experiencing chronic joint pain and has difficulty concentrating?  Do you wonder if he or she would benefit from taking tests in a quiet location of your school with no time constraints?  Your child may be approved for testing accommodations with a medical letter provided by your HTC indicating how his medical condition and treatment interferes with being able take exams in regular testing conditions.
In New York City, if your child is bused to school with transportation provided by the Office of Pupil Transportation, you may request limited time travel (this may not apply to private bus services).  This means that you can request shorter bus rides due to medical treatment (factor administered in the morning) or chronic medical issues (frequent bleeds).
THERAPEUTIC SERVICES
Does your child have a target joint?  Is he often clumsy resulting in multiple bruises or bleeds?  To assist with better coordination and to improve on flexibility and stamina, your child may benefit from occupational therapy and/or physical therapy.  You can request a prescription for evaluation from your HTC and see a private therapist after school, or request such evaluation directly from your school.  Should your child qualify, he may be able to receive services during the school day.  In addition, the use of assistive technology can aid children who have physical difficulty with recording academic information.  Special devices such as iPads might be easier for a child to navigate when having an elbow or wrist bleed, rather than pencil and paper.  A discussion with your medical team and, if in service, your occupational therapist, may warrant further evaluation for assistive technology.
COUNSELING SERVICES
Children thrive when they feel competent and confident.  Living with a bleeding disorder means that your child is susceptible to multiple issues that may impact their childhood.  Re-occuring joint bleeds, frequent hospital visits, chronic pain, long absences from school may cause emotional distress.  Having a conversation with your school's guidance counselor to check in with your child regularly may help monitor any emotional issues that develop.  Your guidance counselor can also make further recommendations should outside therapy be beneficial.  School counseling services may be requested on your IEP.
For families of children with bleeding disorders, back to school time can be fret with worry and anxiety.  Educating your child's school about their medical condition and receiving the support from your HTC to serve as a medical liaison with the school can ease some concerns.  Implementing specific medical accommodations and services can aid in your child's academic success.  If you have begun the school year with minimal health concerns, you may not feel certain services are necessary.  However, at any given time should your child's health circumstances change, you may request specific medical accommodations and an evaluation for special education services for your child's academic benefit.
RESOURCES:
Back to School Guides:
https://hemaware.org/story/back-school-bleeding-disorder
The IEP Process:
http://schools.nyc.gov/Academics/SpecialEducation/IEPprocess/default.htm
https://www.understood.org/en/school-learning/special-services/ieps/understanding-individualized-education-programs

http://schools.nyc.gov/NR/rdonlyres/9D996213-4452-4E03-BFAC-FC718CBBCAC6/0/4RequestforEducationalServicesFrontBack2.pdf
Questions and Answers about the 504:
http://schools.nyc.gov/NR/rdonlyres/37A917C0-8F8A-4552-B6C3-DEE71BB29AA8/0/504_FAQ_Families_FINAL.pdf
Medical Review for 504 Accommodations Form:
http://schools.nyc.gov/NR/rdonlyres/32C744F7-3341-46EF-9D4E-D934FA108A1C/0/2017504PhysicianForm.pdf


Assistive Technology:
http://schools.nyc.gov/Academics/SpecialEducation/SupportsServices/AssistiveTechnology
http://schools.nyc.gov/NR/rdonlyres/BDA701A7-347A-44F2-B888-FEECACC3A5C0/0/FINALATFGFormattedUpdateDraft5_31_16.pdf
Educational Advocate:
http://schools.nyc.gov/NR/rdonlyres/AA439D3A-D5E8-42CD-AF7E-CE5FAF4A5D5C/0/EducationalAdvocatesUPDATEDMarch2017.pdf
Dr. Regina Legere-Buccellato is a Clinical Psychologist in Private Practice and a Hemophilia Mom.  She has extensive experience in working with children with special needs and navigating through school issues.  Her sons receive services and medical accommodations in their schools.