Travel Grants Now Available to Attend the NHF Annual Meeting
Are you attending this year's National Hemophilia Foundation Annual Meeting in Orlando? If so, the chapter wants to help send you there. Click here to download the Travel Grant Application.
Applications must be received by July 1st, 2016 to be considered and should be emailed directly to [email protected] or mailed to 109 W. 27th St., Suite 11B, New York, NY 10001.
$1,000 Travel Grants Available for Local Individuals or Families
The New York City Hemophilia Chapter is committed to ensuring local families have the opportunity to attend major national hemophilia meetings and has budgeted to provide financial assistance to a limited number of families. Assistance grants are offered to help cover travel, hotel, and registration for individuals or families to attend the NHF Annual Meeting. The application for assistance is now open to anyone in the NYC area with a bleeding disorder, Hemophilia, Von Willebrand disease, etc. This year the chapter is able to provide $1,000 grants to five individuals or families.
Will we see you in Orlando?
Join us in Orlando for three days full of educational sessions networking opportunities, and access to a giant exhibit hall. Registration to the NHF Annual Meeting includes entrance to the Opening Session/reception, Awards ceremony, educational sessions and an exciting Final Night event. For more information about the NHF Annual Meeting, click here.
Attend the NHF Annual Meeting
NHF's 68th Annual Meeting will be held July 21, 2016 – July 23, 2016 in Orlando, Florida at the beautiful Gaylord Palms Resort & Convention Center. Click here to register.
Travel Grant Selection Criteria:
1) Priority will be given to first time attendees and individuals with specific needs.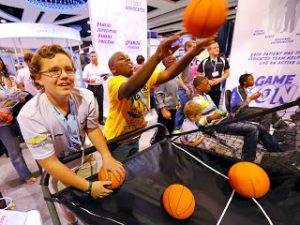 2) You must be willing to share your experience with others by writing a blog post, an article in the chapter newsletter, volunteer at an upcoming chapter event or program or participate on a chapter committee.
3) Deadline to apply for financial assistance is: July 1st, 2016 – please use this form to apply.
4) Recipients will be notified the week of July 8th, 2016.
5) Attendance to the educational sessions and a chapter dinner offered at Annual Meeting is required to receive travel grant funding.
6) NYCHC has limited travel grants available and the funds are on a first come, first serve basis.
Please call me at 571.268.1443 or email me at [email protected] if you have questions.