Snow Coming? We're Ready to Walk!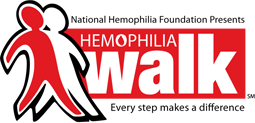 Ten years ago, a single New York family and some family and friends started a walk to raise funds and awareness for individuals with bleeding disorders.  About 200 people walked together that first time to make a difference in our community.
Our Walk has grown every year and is now part of a nationwide event conducted by the National Hemophilia Foundation and chapters in forty cities across the country.  Together we've raised millions of dollars for education, advocacy, and research leading to better treatments and a cure.
Much more than a fundraising event, the New York City Hemophilia Walk is an amazing day in the park featuring food and refreshments, entertainment, exhibits, souvenir t-shirts and lots of fun!
Our 11th New York City Hemophilia Walk will take place on Sunday, June 5th in Riverside Park.  Join us as we begin our second decade!  We continue the challenge of last year with the same ambitious goal:  2,000 walkers and $300,000!  There are two routes through the park to suit all levels:  a shorter 1 mile route, and a 5k route.
There are lots of ways you can help:  volunteer, start a team, join a team – or just walk!  Click on the link below to sign up now:
Everyone who starts a team or registers as a Walker will be invited to a special kick-off brunch – more details coming soon.
If you have any questions or need help registering, please contact Jeri Krassner at jeri.krassner@nyhemophilia.org or call 212-382-2974.
Sincerely,
Your friends at the New York City Hemophilia Chapter