NYCHC Joins the Hemophilia Federation of America to Ignite Hope 
The New York City Hemophilia Chapter family made its way up to Providence, RI for HFA's "Hope Ignites" Symposium 2017 held at the Rhode Island Convention Center. Aside from learning the regional dialect and eating doughnuts at Knead, NYCHC attended sessions on pain management, insurance, family dynamics and stress management, exciting treatment options, and more! In addition to sessions, a memorial for departed members of the bleeding disorders community was held. A touching memento of Forget Me Not seeds was distributed to attendees of the memorial, lest we forget our fallen.


The weekend was an inspiring occasion and two of our very own board members, Kelly Ann Ambrosio and Rose Bender were awarded for their wonderful work and contributions to thecommunity. Kelly was honored with the Michael Davon Community Service Award and Rose was honored with the Leader of the Future Award. Congrats, Kelly and Rose!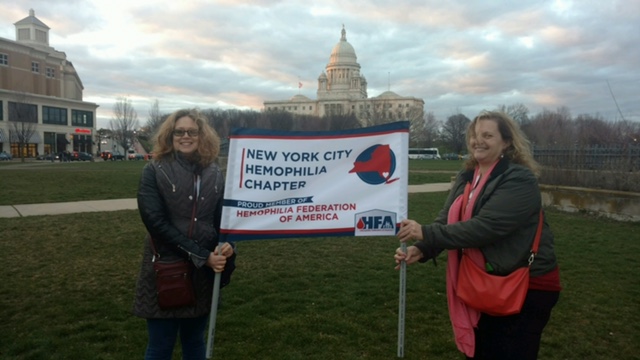 On the very last night, HFA sponsored the kickoff of WaterFire, a Providence tradition at Waterplace Basin. NYCHC, along with other HFA member organizations, processed holding regional flags. The braziers were lit to draw attention to the bleeding disorders cause and attendees sailed in gondolas on the Basin. Rose Bender even infused on a gondola!
Symposium was an inspiring and fruitful weekend. It was announced that the 2018 Symposium will be hosted by the city of Cleveland, OH! Rock and Roll Hall of Fame, we'll see you in 2018!