NYCHC Education Day – Register Now!
PLEASE REGISTER NOW!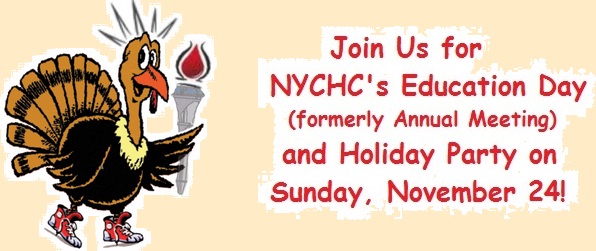 Thank you to everyone who registered for New York City Hemophilia Chapter's Education Day (Sunday, November 24 starting with continental breakfast at 9:30am at the Crowne Plaza Times Square). We're so excited to see you and have a lot planned! You can read some more highlights of the day below and start thinking about the breakout sessions you'd like to check out. We'll send a final email prior to the event with important information and reminders.
For those who haven't registered yet, you still can, BUT PLEASE DO IT NOW. There's a registration link at the top of this page, and another one near the bottom.
We're planning so much for you and we don't want you to miss it!
HIGHLIGHTS
FOR PARENTS, GUARDIANS AND OTHER ADULTS:
Exciting opening session (including continental breakfast) on "Healthcare Reform: What Does it Mean for You?" with Glenn Mones (NYCHC), Michelle Rice (NHF), and Ruthlyn Noel (Baxter), sponsored by BaxterBREAKOUT SESSIONS ON:

Inhbitors with Dr. Christopher Walsh of Mount Sinai, sponsored by Novo Nordisk
IEP and 504 plans – What are they and Why do you need them? with Ben Shuldiner, sponsored by Baxter
Education for Caregivers of Individuals with Hemophilia with Linda Polhammer, RN, sponsored by Pfizer
Positive Assertiveness – Identifying Inner Strengths and Learning to Assert Them – with Wendy Kaufman of the American Management Association, sponsored by Biogen Idec
Infusing Your Child with Hope Woodcock, RN, presented by Dads in Action (not just for dads)
Managing VWD Successfully! with Kristin Prior, sponsored by CSL Behring
The Ever-changing Challenges of a Woman with VWD with Jeanette Cesta, sponsored by Octapharma

Nuevo Para Este

Año

: Hemofilia en Lactantes y

Niños de Hasta 5

Años

(en Español) con Heather O. Alvarez, CPhT., patrocinado por Bayer
FOR TEENS:
Breaking Barriers (part 2): Overcoming Your Personal Challenges, with Patrick James Lynch of Stop the Bleeding, sponsored by Pfizer
Living a Healthier Lifestyle Through Physical Fitness and Nutrition with Linda Polhammer, RN, sponsored by Pfizer (parents also welcome)
FOR YOUNGER  KIDS:
A chaperoned visit and workshop at SHIPWRECK! Pirates & Treasure the Exhibition at nearby Discovery Times Square.

Children's lunch buffet
FOR ALL KIDS:
Live self-infusion demonstration with Hope Woodcock, RN (during lunch – parents welcome)
Supervised games, crafts, entertainment, learning and fun!
FOR EVERYONE:
Are you Ready for Camp? with Lee Hall, featuring bleeding disorders camp representatives, sponsored by Biogen Idec
Exhibit Hall with 25 Exhibit tables featuring representatives from manufacturers, specialty pharmacies, camps, and organizations with product information, giveaways and more.
Delicious continental breakfast, deli buffet lunch and children's buffet
BRING IN THE HOLIDAYS!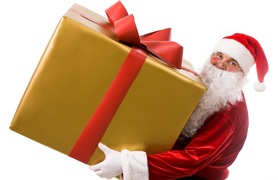 Right after the educational sessions we will host a fun holiday celebration from 2:30 to 4pm. The party will feature Santa's first appearance of the season and presents for all children eighteen and under!
SP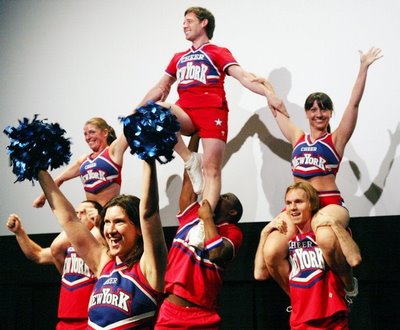 ECIAL HOLIDAY TREAT:
    A live performance by the members of Cheer New York!
All individuals with bleeding disorders from the Greater New City area and their immediate families are invited to attend these events at no cost – it's free! However, advance registration is required so PLEASE REGISTER NOW and remember to include all attendees in your reservation. Be sure to tell us the age and gender of each child attending so that Santa can select an appropriate gift.
For more information, please visit the NYCHC website at www.nyhemophilia.org or call NYCHC at (212) 382-2974.
If you have difficulty registering or need more information, please contact Jeri Krassner at

[email protected]

  or call NYCHC at (212) 382-2974.
Thank you and we look forward to seeing you on November 24!

Your friends at NYCHC