It's Giving Tuesday
It's Giving Tuesday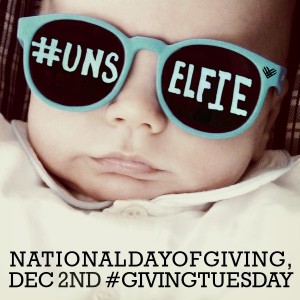 BE UNSELFIE!
We have a day for giving thanks. We have two for getting deals. Now, we have #GivingTuesday, a global day dedicated to giving back. Today, Tuesday, December 2, 2014,nonprofits, families, businesses, community centers, and students around the world are coming together for one common purpose: to celebrate generosity and to give.
It's a simple idea. Just find a way for your family, your community, your company or your friends to come together to give something more. Then tell everyone you can about how you decided to give. Join us and be a part of a global celebration of a new tradition of generosity.
This is an opportunity to give much needed funds, volunteer hours, or both to the causes dearest to your heart. Of course, all of us at New York City Hemophilia Chapter hope you will remember our efforts on behalf of families affected by bleeding disorders. But whatever causes you choose to support, we hope you will help us spread the word to the entire community about the importance of giving.
If you'd like to support our efforts, you can make a secure online contribution or find out about opportunities for volunteering by clicking on the appropriate link on our
"YOU CAN HELP"
page.
We are also very excited that we have begun planning our 2015 New York City Hemophilia Walk – our tenth year!  The Walk will take place on Sunday, May 31st in Riverside Park.
We need everyone to get involved! You can sign up to receive information about teams, volunteer and much more by
CLICKING HERE
.
Thank you for celebrating Giving Tuesday with us, and for supporting this community all
year long!