Announcing Our 2016 Walk Co-Chairs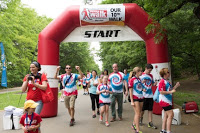 NYCHC is pleased to announce that Matt Porges and Julia Martin Alvarez will serve as the Co-Chairs of the 2016 NYC Hemophilia Walk.
Matt is NYCHC's Treasurer and a member of the Board of Directors. Matt has led "Team Good Blood," one of the top fundraising teams.

 

He has also served as Co-Chair of the Annual Gala. Matt is a resident of Brooklyn and a lawyer in private practice. He has severe hemophilia A.
Julia is the mother of Rodrigo, a six year old boy with hemophilia A. She is originally from Spain. She and her husband Alfred, who is originally from Austria, have lived in a variety of countries due to her husband's work, which has now brought them to New York City. Julia has been very active with the hemophilia associations in every country they have lived in and is excited to take on this import role with NYCHC.
The NYC Hemophilia Walk will take place on Sunday, June 5 in Riverside Park. For more information or to form or join a team, please visit bit.ly/NYCWalk16.