Spotlight: Rose Bender
To celebrate March as Bleeding Disorders Awareness Month, we are conducting short Q&As to learn more about members of our community!
This week, we're interviewing Rose Bender. Rose is 25 years old, is a former NYCHC Board member, is currently a member of MASAC, and enjoys hiking, biking, camping and the great outdoors.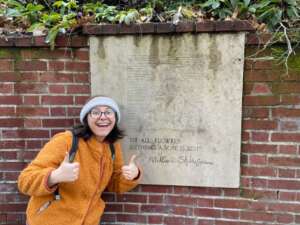 What and when was your diagnosis?
I have hemophilia A. I was first diagnosed with a bleeding disorder at 9 months old.
What does bleeding disorders awareness month mean to you?
I hope that campaigns for bleeding disorder awareness will reach healthcare providers outside the community. Women, people with von Willebrand disease, and people with rare bleeding disorders still face a lot of challenges in getting diagnosed. Womens' bleeding issues have seen greater awareness in recent years, and I hope that continues to improve.
What is the best part about being part of the bleeding disorder community and how has have a bleeding disorder shaped your life thus far?
Meeting so many amazing role models and friends who understand me is definitely the best part. Hemophilia has certainly brought its challenges, but I feel lucky to be a part of this group of inspiring people.
What advice would you give to parents of children with bleeding disorders?
If you are reading this, you are not alone! Treatment has improved so much over the past few decades, and hemophilia today looks nothing like it did in the '80s or '90s. Your child has a full life ahead of them, and they get to be part of this amazing community.
About Bleeding Disorders Awareness Month
In 2016, the US Department of Health and Human Services (HHS) officially declared March as Bleeding Disorders Awareness Month! This month aims to foster a stronger sense of unity among all individuals in our community, and to elevate awareness to the general public.  Learn more here.