Bradley Schoenfeld
2017 Award of Distinction Honoree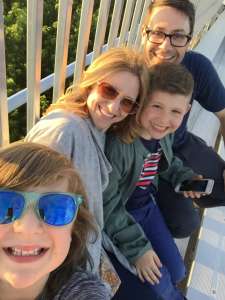 On behalf of the New York City Hemophilia Chapter (NYCHC), we are pleased to make you aware that Bradley Schoenfeld has been selected as the recipient of our highest honor, NYCHC's Award of Distinction.
At our upcoming annual Gala on Nov. 18th in Manhattan, we'll take this opportunity to toast him, as we celebrate his past achievements within the bleeding disorders community, and recognize both he and his family as exemplary role models in their daily management of this rare, chronic condition that affects his children.
Brad's twin sons, now 10 years old, both have severe hemophilia B (Factor IX deficiency). This life-long condition that affects their ability to form clots and stop bleeding on their own, was genetically passed down through family history.
His initial inspiration to take on a leadership role in the community naturally came to life via Max and Eli, who proudly carry the living legacy of their grandfather who passed down the related y-linked chromosome. Tragically, like many others in the community during the height of the HIV crisis in the '80s/'90s, Max and Eli's grandfather lost his life to AIDS well before they were born, due to contamination of the very product used to treat his hemophilia.
This is but one of the reasons the Schoenfeld family, or best known to NYCHC as the 'Schoeny Crew', marches on.
As soon as coming to terms with a hemophilia diagnosis at birth for both children and accepting this as reality, as well as carrying a newfound respect, in reliving the past, for the previous, afflicted generation, the Schoenfeld family sought not to fall victims of the disorder, but instead champion the road ahead.
Through Brad, NYCHC is proud to honor their courage, strength and numerous achievements. Going far beyond volunteering his time, Brad is one of a handful who can be directly credited with the formation and success of what is now the New York City Hemophilia Chapter.
Brad is a leader in fundraising — his 'Schoeny Crew' Walk team, where he has served as team captain since 2008, broke $75,000 in collective, personal money raised last summer. Fittingly, he was instrumental in building this very event, our annual Gala — having participated on the original committee, he then went on to Chair the event for the next 6 years; all in all, he has steered the Gala towards its current success, raising over $500,000 since its inception.
Behind the curtain, Brad has served on the board for NYCHC since 2010. He continues to help carry its mission and vision forward, where he currently serves as Vice President and Chair of its Governance committee. Prior to his current officer term, he also held the seat of Treasurer for four years and was Chairperson of the Finance committee.
Brad has also had numerous, personal touch points with the community throughout his tenure. Early on, he and his wife were speakers at a symposium event at one of NHF's (National Hemophilia Foundation) annual meetings, aimed at helping others to cope with what it is like to first hear an initial diagnosis and raising young children with the disorder. Out of this, Brad localized this effort to NYCHC and formalized a mechanism for outreach to newly diagnosed families — via this mentoring program, appropriately called "NYCHC Connections", countless families have been helped to date — Brad and his family have even personally taken their own time to counsel a few.
In a coincidence of fate, in 2010 Brad's personal and professional lives aligned — utilizing tactics and leaning on his professional skill sets, he was instrumental in helping to formulate the marketing strategy for the documentary feature "Bad Blood: A Cautionary Tale", where he art directed the poster design, consulted on screening distributions and served as the film's publicist.
Now in the early stages of beginning to pass the torch to his children, as they start to come of age, most recently, Brad and his family were seen motivating scores of New York City Marathon runners, as they prepared the night before the big race. Max and Eli were guest speakers to hundreds, sharing their story, all in support of various rare and chronic conditions.
As we proudly celebrate Brad and his 'Schoeny Crew' on November 18, we look forward to your participation in this memorable evening.
Aliana Soto
2017 Susan Galligan Volunteer of the Year Award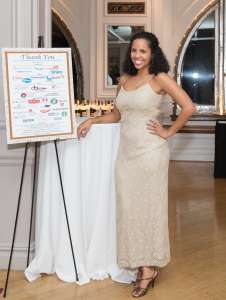 Aliana Soto became part of the community in 2009 with the birth of her nephew.  With no family history of hemophilia and hardly knowing how to spell it, she quickly became very involved. Her involvement started with signing folks up for the annual Walk during the Spring Event at the Bronx Zoo, and doing check-in at Chapter events.
While serving on the Chapter Board, Aliana established the Volunteer Engagement Committee creating guidelines, templates, and training and procedure documents.  She successfully led three volunteer training sessions, providing not only training, but also the history and evolution of the bleeding disorder community. Aliana felt it was important for volunteers to know both the history of the community, but also what role the Chapter has played within the community. This approach allowed volunteers to have a full picture of who the Chapter is and who the Chapter serves.
Aliana is an active member of the Latino Outreach Committee, where she also serves with four other faithful volunteers including her mom. Formed in 2016, the committee has grown in just a year and hosted many successful events. This year, they've added a Spanish-speakers infusion event and a Hispanic Heritage Month celebration to the rotation, both of which were well attended and successful. She has served on the Gala committee for 2 years and can often be found at Chapter events connecting with community members and identifying resources for the Chapter.
Aliana has been the team captain for her team, Jaylen's Walkers, since the team's inception in 2009. She takes the lead registering her team members, following up on matching gifts, writing fundraising emails and planning fundraisers. She's always available with her hand up to serve the needs of the community in any capacity. New York City Hemophilia Chapter is proud to honor Aliana Soto with the 2017 Susan Galligan Volunteer of the Year Award.